It was a big moment when I opened my original Yoga Studio in 2006, Eileen's Yoga Studio. It was Abbotsford first professional studio tucked in behind the greyhound bus station. The response and support from the community was and is amazing to this day! Word of mouth and referrals from professionals working in this community has spread the healing benefits of the Iyengar method of yoga taught at the studio.
The studio moved to the 5 corners in Abbotsford in 2017 and re-branded into Abby Yoga Studio. I wanted the studio to be more inclusive to other Iyengar teachers in this community with the hope of taking Iyengar yoga to a wider audience and building a stronger community spirit.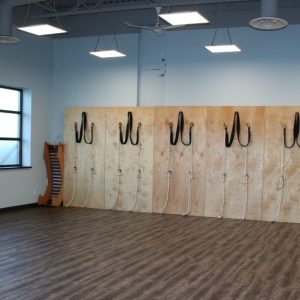 When the COVID pandemic hit 2020 we had to pivot, like many small businesses did. Some teachers decided to spend more time with their family and not to teach in person classes. I continued to do both in studio and online classes to serve the community.
I had several other teachers along the way. Now it's now back to me as the primary teacher. Teaching smaller in studio group classes that are pre registered to provide safe distancing.
I continue to provide online classes for those who prefer this option. Both in studio or online & 1:1 private session are available for those wanting a personalized experience. These are excellent for those recovering from an injury or illness.
It is my core passion to share knowledge of the Iyengar method of yoga through what I've learned over the past 30 years of study and practice. Weaving my therapeutic yoga training into every class. I also provide a unique and rich experience by offering different holistic services the studio.
This continues to bring me motivation and satisfaction each and every day I come to the studio to teach or do a treatment. I am truly blessed and grateful to be part of this community.
"I've never been a naturally flexible person–and my years of distance running certainly had not done anything to change that. Quite the contrary! As a result, I've enjoyed a host of knee, hip, etc. concerns that were really starting to limit my athletic life. Although I had tried repeatedly to "get into" a yoga/stretching programme, nothing really clicked for me until I began attending class at Eileen's Yoga Studio. Eileen has a wealth of knowledge about Iyengar yoga and the body, and an intuitive way of applying this in her teaching. Classes are lots of fun, I'm learning things about myself, and my stiff-as-a-board body is changing for the better. Yoga with Eileen makes me happy!"
Linda Schilling