Lymphatic Massage with Essential Oils
Lymphatic massage with essential oils is deeply relaxing, reduces stress as well as rejuvenating to the mind and body. Essential oils are blended specifically for you to help balance the different systems in your body. This custom blend of essential oils is applied to your whole body using the European Lymphatic massage technique.
This massage technique will encourage the natural drainage of the lymph from the body tissue and increase the circulation of lymph – a clear watery fluid that moves through the body picking up bacteria, fat cells and viruses filtering them out via the lymph nodes for cleansing. Strengthening the immune system and having a powerful impact on your body's ability to heal with long term health benefits. After this massage you will leave feeling and looking rejuvenated…
Benefits of Lymphatic Massage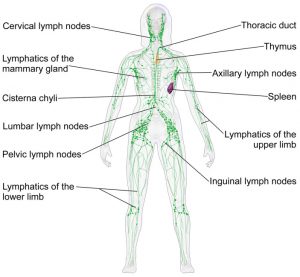 Improve energy, reduce fatigue and restore vitality
Strengthen the immune system
Detoxification , helping the body get back on track
Reduce cellulite and remove fat cells
Reduce swelling after an injury or surgery where lymph nodes have been removed such as a mastectomy
Helps with lymphedema and edema
Helps with hormonal changes during pregnancy, menopause or PMS
Gentle enough for people with fibromyalgia or chronic fatigue
Helps with scaring- by activating lymphocytes involved in reconstructing tissue
Helps the lymph system work better for more long term health benefits
*Eileen is a graduate of the BC Institute of Holistic Studies and Certified in European Lymphatic Massage.
Practicing since 2006.