Iyengar yoga makes liberal use of props that assist students in learning poses.
Mr Iyengar was the originator of using props as a teaching aid to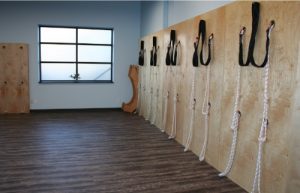 1. Increase the duration of staying in a pose
2. Improve the confidence of the practitioner
3. Enhance the subjective knowledge of accurate stability and alignment
4. Expand the range of motion
5. To help the practitioner achieve and experience the effects of a pose that would not otherwise be possible
Iyengar called the rope work celestial poses
Using the rope wall for different yoga postures allows the practitioner to stay for a longer period of time, giving ease to the pose, a greater understanding and increased therapeutic benefits. The studio is equipped with 15 rope stations which is quite typical of an Iyengar studio.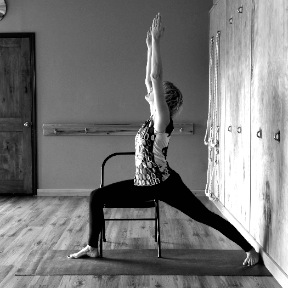 The studio has evolved both inside and out. Much like we all do when applying Iyengar Yoga.
The feel & warmth of the studio is made up from the open hearts of students who choose to make Abbotsford Yoga Studio their place to experience alignment, mobility, inner strength and the many other benefits of doing yoga.
"I have been blessed to have the opportunity to work with Eileen Millar for 13 years. She is an incredibly dynamic teacher that takes the time to understand her individual student's needs and goals. She is highly educated and resourceful. Eileen brings a passion to her work that is contagious."
Jackie Kenward
"I've never been a naturally flexible person–and my years of distance running certainly had not done anything to change that. Quite the contrary! As a result, I've enjoyed a host of knee, hip, etc. concerns that were really starting to limit my athletic life. Although I had tried repeatedly to "get into" a yoga/stretching programme, nothing really clicked for me until I began attending class at Eileen's Yoga Studio. Eileen has a wealth of knowledge about Iyengar yoga and the body, and an intuitive way of applying this in her teaching. Classes are lots of fun, I'm learning things about myself, and my stiff-as-a-board body is changing for the better. Yoga with Eileen makes me happy!"
Linda Schilling
*All ropes are sanitized before and after each session